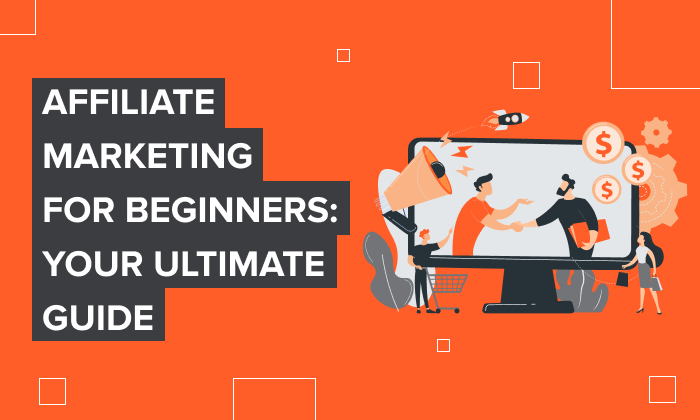 According to Statista, business spending on affiliate marketing hit $8.2 billion in the U.S in 2022 and Influencer Marketing Hub estimates that the industry will continue to grow to $15.7 billion by 2024.
Affiliate marketing is a popular and lucrative online business model that allows individuals to earn passive income by promoting products or services of other companies. In this beginner's guide, we will dive into the fundamentals of affiliate marketing, how it works, and the steps to get started on your affiliate journey.
What is Affiliate Marketing?
Affiliate marketing is where you promote another company's product or service. When someone purchases through your affiliate link, you earn a commission. These commissions are usually a percentage of the sale price or a fixed amount.
How affiliate marketing works
Affiliate marketing is a sales model where a company pays a third-party to sell their product or service. If you've ever listened to a podcast or seen a social media influencer promote a product, they are affiliate marketers. In exchange for recommending products or services to their audience, they get a commission off of any sales that result in their referral.
After you choose an affiliate marketing program, you'll receive a unique link or code that will allow the companies to track every customer you send their way. When a customer purchases the product through your link, you earn a commission.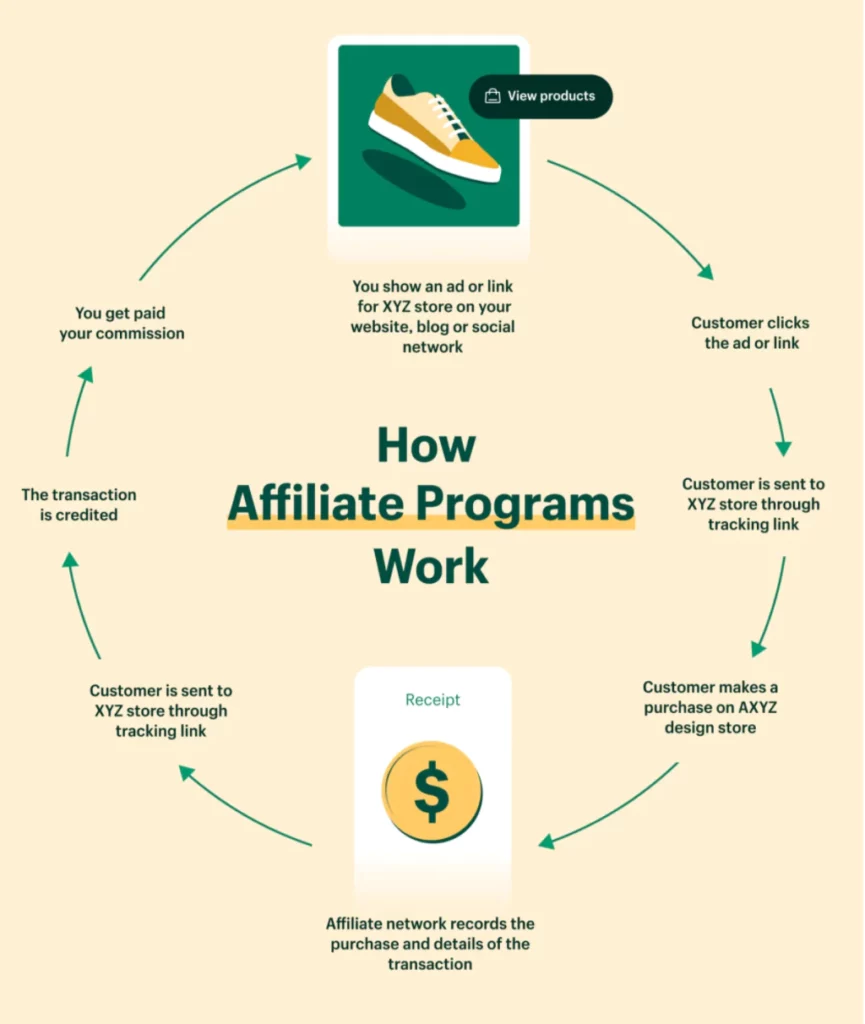 You can find programs directly through a company or via an affiliate network like ShareASale. Regardless, here's how the standard affiliate program works:
You promote Store A on your website, blog, or social network.
Someone clicks your unique link.
They make a purchase in Store A.
The company or affiliate network records the transaction.
The purchase is confirmed by Store A.
You receive a commission.
How does affiliate marketing work?
Upon joining an affiliate program, you get a unique link that contains a tracking ID. This allows the merchant to track if you've referred customers to them.
People who click on your link also get a tiny file called a cookie stored on their device. This (usually) holds an expiry date, so you get paid even if they delay buying for a while.
Here's an example of how it works:
Someone visits your post on the best winter jackets.
They click the Amazon affiliate link for one of your recommendations.
They close their browser to pick their kid up from school.
They go back to Amazon the next day to check out the product again.
They buy the recommended product, along with some ski gear.
Thanks to the affiliate cookie stored on this person's device, you earn a commission on the recommended product and the ski gear.
How much money do affiliate marketers make?
Most affiliate marketers earn less than $10K per year. That's according to a survey from Influencer Marketing Hub.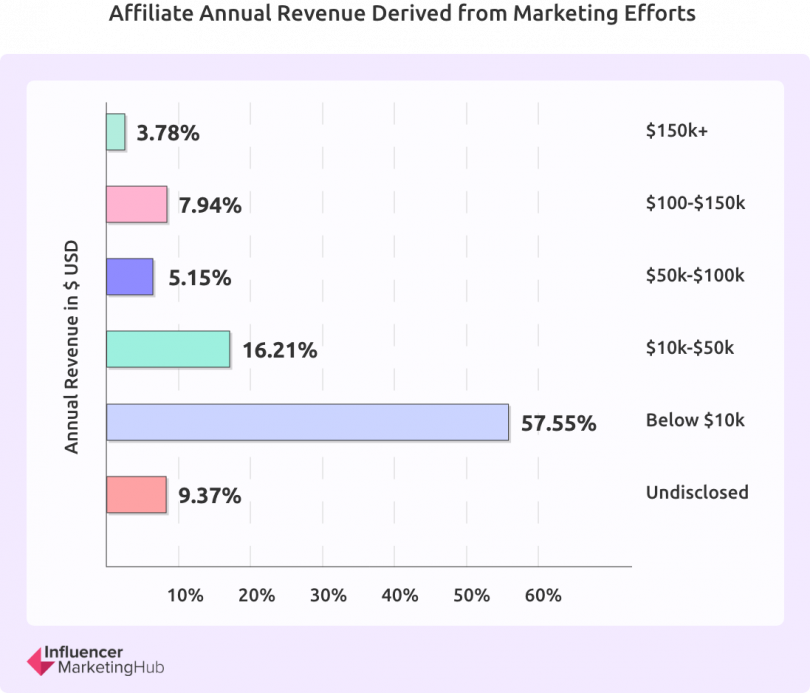 Yet, roughly one in six (16.87%) make $50k per year or more.
How to get started with affiliate marketing
In the following sections, we'll walk you through the steps to start affiliate marketing.
1. Decide on a Niche
The first step in any successful affiliate marketing strategy is to select a segmented target market or audience, also known as a niche.
A market niche is typically characterized by a shared interest or demographics, influencing product quality and price point.
For instance, the skincare industry's niches include skincare for kids, anti-aging, or acne-prone skin.
Targeting a small market segment is more effective than following trends or appealing to an entire industry. It makes establishing brand recognition, growing expertise, and building authority easier.
Consider the following when selecting an affiliate marketing niche:
Start with your passion or interest. Picking a subject that interests you will make content creation enjoyable. Alternatively, go for a topic you have mastered. Sufficient product knowledge helps establish yourself as a reliable source.
Analyze your competitors. Determine the niche's difficulty level. If it's highly competitive, highlight your unique selling point to stand out from competitors.
Assess market demand. Ensure that your chosen niche is profitable and sustainable. Choose evergreen markets that have a consistent demand all year round. Quick research on Google Trends or Ubersuggest can help you check keyword popularity.
Step 2: Create a Website
Next, you need to create a website. Many internet guides will suggest ways and tips to promote your affiliate link. However, the most secure, effective, and efficient way by far to promote an affiliate link is through your website.
Your website serves as a foundation for your online business. This website does not need to have many tools, plugins or features. It can be a simple, user-friendly website on which users can easily read the content.
Step 3: Find affiliate programs to join
There are three main types of affiliate programs to choose from:
High-paying, low-volume — Niche products with fewer buyers. For example, HubSpot sells only to businesses but their affiliate program pays well (100% of first month and 15% monthly recurring commission.)
Low-paying, high-volume — Products with mass appeal, e.g. PS5 games. For example, Amazon only pays up to 10% commission. But the good thing is they offer commissions off the entire value of the purchase (and not just the product you recommended.)
High-paying, high-volume — Expensive products with mass appeal, e.g. credit cards. An issue is that these programs tend to attract affiliate marketers with deep expertise and pockets and willingness to black-hat tactics.
Step 4: Sign-up for an Affiliate Marketing Program
The most important step in how to start affiliate marketing in India is choosing and signing up for the correct affiliate marketing program. Do a quick research on the most popular affiliate marketing programs and choose the one that has higher commissions for the product category of your choice.
Read through the payment terms, other policies, and reviews to make a better decision. Most websites will ask for your website address, banking details, and other personal information. Even if your website is completely blank at the moment, share a plan of action with the affiliate network on how you will promote the products in the future and they will approve your registration request. 
Following are some of the most popular affiliate networks that you can join.
ShareaSale – One of the largest affiliate networks with many high-paying affiliate products for almost every category imaginable. For example, the popular WordPress hosting company WP Engine uses ShareASale to manage its affiliates.
CJ Affiliate (Formerly, Commission Junction) – Another top affiliate network with a huge number of merchants and products neatly organized in categories and easily searchable. Companies like GoDaddy, Expedia, and many others use CJ.
ClickBank – This is a large online marketplace for selling digital products in various categories from different vendors. It is easy to use and has tons of learning resources for new affiliate marketers.
Amazon Associates – Amazon is the world's largest eCommerce store with millions of products. You can sign up for their affiliate program and start earning by sending people to a website they already use for their online shopping.
Step 5: Choose the product you are going to promote
In Step 1, you selected a product category such as Electronics, Beauty & Apparel, Home Furnishing, etc. Now you need to choose a product. If you already have a list of selected products, just search for the product name in the provided search box.
If you don't already have products selected, you need to start choosing products. In the case of Amazon, you can visit the Amazon Bestsellers page to identify the top-selling products in that category.
When you promote a product that already has high sales volume, it is a lot easier to get people to purchase it compared to a product that has just entered the market or does not have high demand.